Cancer Signaling
Exosomes are small vesicles produced by and shed from cancer cells in highly elevated amounts to carry out, or influence, almost all pathogenic actions of tumor cells:
Transport pro-cancer materials to other cells (proteins, mRNAs, ncRNAs, etc.) without detection (hide as self)
Build and maintain the Tumor Micro-Environment (TME)
Drive systemic dysregulation from cancer
The field of exosome research has produced abundant literature on all these, and exosomes are increasingly recognized as central mediator in cancer formation, progression, metastasis, metabolic dysregulation, as well as its ability to resist both chemotherapies and checkpoint inhibitors.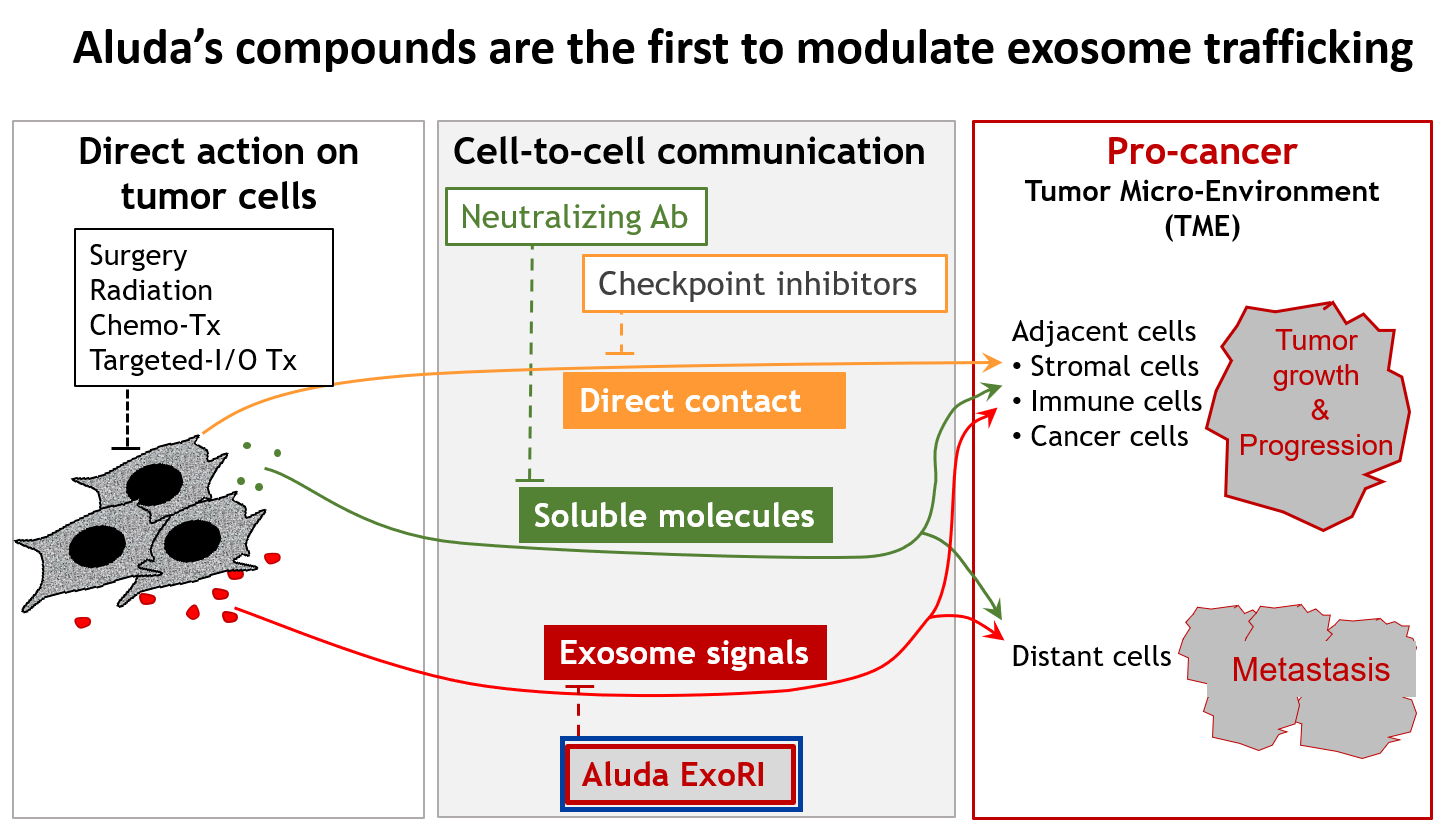 Inhibition of exosomes appears to offer a promising and highly novel intervention in cancer. Aluda has proven that its vimentin binding small molecules, including ALD-R491, can intervene in the biogenesis and release of exosomes in tumor cells, with no negative impacts on normal cell biology. Data includes extensive in vitro and in vivo evidence with both negative effects on tumors, and positive effects on normal cells.
Aluda's Exosome Release Inhibitors (ExoRIs) provide the first effective tools to refine clinical translation of this important field to novel anti-cancer agents that are anti-metastatic, anti-TME, and prevent systemic dysregulation of cancer.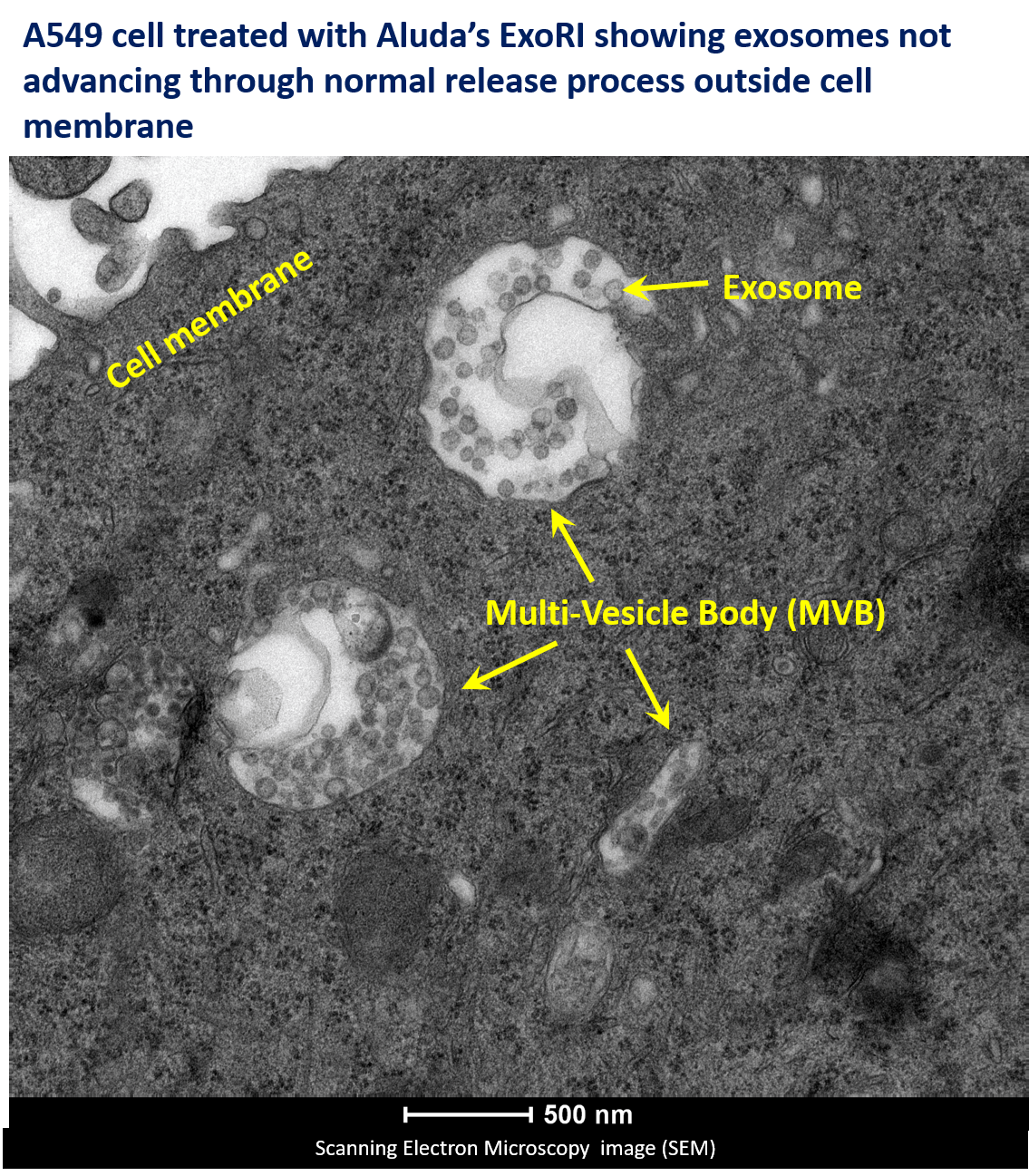 Reading
Hoshino A, et al. Tumour exosome integrins determine organotropic metastasis. Nature. 2015 Nov 19;527(7578):329-35. doi: 10.1038/nature15756.
Kalluri R. The biology and function of exosomes in cancer. J Clin Invest. 2016 Apr 1;126(4):1208-15. doi: 10.1172/JCI81135. Review.
Whiteside TL. Exosomes and tumor-mediated immune suppression. J Clin Invest. 2016 Apr 1;126(4):1216-23. doi: 10.1172/JCI81136. Review.
Syn N, et al. Exosome-mediated metastasis: from epithelial-mesenchymal transition to escape from immunosurveillance. Trends Pharmacol Sci. 2016 Jul;37(7):606-17. doi: 10.1016/j.tips.2016.04.006. Review.
Becker A, et al. Extracellular vesicles in cancer: cell-to-cell mediators of metastasis. Cancer Cell. 2016 Dec 12;30(6):836-848. doi: 10.1016/j.ccell.2016.10.009. Review.
Maybruck BT, et al. Tumor-derived exosomes induce CD8+ T cell suppressors. J Immunother Cancer. 2017 Aug 15;5(1):65. doi: 10.1186/s40425-017-0269-7.
Namee NM, O'Driscoll L. Extracellular vesicles and anti-cancer drug resistance. Biochim Biophys Acta Rev Cancer. 2018 Dec;1870(2):123-136. doi: 10.1016/j.bbcan.2018.07.003. Review.
Chen G, et al. Exosomal PD-L1 contributes to immunosuppression and is associated with anti-PD-1 response. Nature. 2018 Aug;560(7718):382-386. doi: 10.1038/s41586-018-0392-8.
Mathieu M, et al. Specificities of secretion and uptake of exosomes and other extracellular vesicles for cell-to-cell communication. Nat Cell Biol. 2019 Jan;21(1):9-17. doi: 10.1038/s41556-018-0250-9. Review.
This document was printed from http://www.aludapharm.com/pipeline/cancer-signaling.html